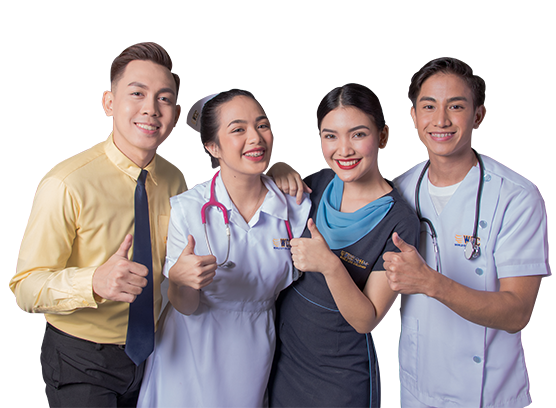 Life in
World Citi Colleges
Our goal is to provide you with the best possible environment to learn and enjoy college life. Get access to information and find out what support and resources are available.

We are here to Support
Whatever stage you're in, you will never be alone at World Citi Colleges.
Our WCC community of academic and career advisors, faculty and successful alumni network will be there to help direct you in achieving your goals.

Career Center
---
From day one to graduation, our Career Center team is there when you need them.
Meet your WCC Counselors - Let them help map out your career with clear action plans that you may keep and follow.

Department of Student Affairs (DSA)
---
The DSA's Office strives to create a dynamic living and learning community of students. They offer opportunities that promote positive personal growth and social immersion to boost your transition into a World Citizen.
DSA's activities include: daily drop-in sessions, group sessions and workshops. For more details, visit the DSA office of your chosen campus.
Board Exam Reviews
Are you seeking to enhance your studying skills and find resources to improve your test scores in the board examinations?
Our Board Exam Review Assistance is a series of basic studying skills workshop, consultation services, and peer review support designed to help you prepare for the board examinations. For more details, visit the respective college departments.
Campus Ministry
We believe every student is free to share their faith and explore their spirituality. You can also find spiritual guidance and counseling in Campus Ministry.
Library
The Library located at the 4/F of WCC QC offers library and technology services to its students including function rooms for meetings.
The library provides online access and instructions to a selection of over 100 databases containing full-text journals, magazines, reports, and newspapers.
Health and Wellness
Our Health Services for all WCC students, faculty and staff offers treatment of common acute problems and provide personal health counseling by licensed health services staff members.
Guidance Office
Our WCC guidance staff is ready to assist and guide you in understanding yourself better as you go through the stages of your personal growth and career development. The center helps you recognize your potential to become self-directive, socially responsible, and well-rounded
professionals and servant leaders in the future. Here are services offered:
1. Counseling Service
WCC Counselors help students understand themselves better. Students are guided to gain deeper awareness of their problems and make intelligent decisions in varying situations to become self-sufficient and mature persons.
2. Consultation Service
Our Counseling Services are given to individuals who are observed by our WCC Counselors, parents, teachers and administrators to have behavioral guidance needs.

3. Placement Service
A service extended to WCC undergraduate and graduating students in their preparation for joining the workforce. Pre-employment seminars and on campus recruitment are conducted annually.


Real-life Training Facilities
---
World Citi College houses various modern and up to-date facilities to equip and train you with real life learning. WCC is continuously investing in its facilities to ensure a top-notch learning environment for you.

Allied Health
School of International Hospitality Management (SIHM)
Information Technology
Business Administration

Student Council
---
If you are passionate about making a difference and would like to make an impact on what happens in college, this is the place to do it. Be the voice of your fellow classmates and guide our community in a successful direction. Help us make sure we are doing the right things for you!
Understand what we do
We discuss all happenings at the college, assess how organizational projects might impact students, and continually bring forward fresh ideas and suggestions. If you are interested in joinind us, you'll play a part in developing new initiatives, recommending changes, and identifying things which are not working. This is the place where you can make student life better for everyone!
Get involved
Be a student representative. Get the support and training from the student council coordinator and support officers. Grab the opportunity to represent fellow students!

Athletics and Recreation
---
Benefit from WCC's varied athletics program which fosters sportsmanship, competition, and discipline. Our Vikings and Sports teams has taken on teams across Metro Manila in basketball, volleyball, even futsal.
All students are welcome to join our sports teams and everyone has a chance to play during the season. We also offer cheerleading and dance sports. Now you're chance to take part in competitive meets. Student athletes receive dedicated and inspired coaching from our professional coaching staff and experienced mentors.

Clubs and Organizations
---
Develop a hobby and take part in WCC clubs to explore and develop your interests, talents, and skills.
List of Student Organization A.Y. 2019 - 2020
Co-Curricular Organization
WCC offers activities and learning experiences that take place in school alongside the academic curriculum. Academic attainment is a key element of school life and it is complemented by a broad and enriching co-curriculum to provide a well rounded education. Here's a list of WCC organizations you can join and complement your academics.
Physical Therapy Society
College of Nursing Student Society
Radiologic Technology Society
Medical Technology Society
Pharmacy Society
Psychology Society
HRM Society: CULINARY, CULTURE, HOSPITALITY, HERITAGE ADVOCATES AND MANAGERS OF THE PHILIPPINES (CHAMPS)
Tourism Society: TOURISM TOWARDS RESPONSIBLE ADVOCACIES AS INDUSTRY LEADERS (TRAIL)
I.T. Society
Junior Marketing Association
Extracurricular Organization
Extracurricular activities are gatherings and practices that are not part of the curriculum but supported and encouraged here at WCC. Explore and Develop your talents, interests, and passions while gaining practical skills like time management. Sign up for one or more of the following oraganizations:
Theater Arts Society (Fallax Theater)
WCC Rhythm
World Citi Dance Company
SHS Dance Troupe (Atmost Dance Group)
Media Club (Newsletter Publication)
College Student Core Group
SHS Student Core Group